Scenic Site No. 34 for proper preservation and management and Its Achievements & Significance
Natural Heritage Division

Yun Seon-do(1587-1671) was a noted poet and well-known Neo-Confucian scholar of the mid-Joseon period. On his way to Jeju Island to seek shelter from political storms at the time, he became enamored of the scenic beauty of Bogildo Island and decided to seek refuge there instead. Bogildo Island was remained by Yun's refined views on the harmony between man and nature and his Neo- Confucian thinking, as well as his aesthetic sensibility. He christened various rocks and mountain peaks around the island, and they still carry the names to this day. His Garden, today known as Yun Seon-do's Garden on Bogildo Island, was designated as Scenic Site No. 34 for proper perservation and management.
Discovery of the Legendary 'Gwiam' (Turtle Rock)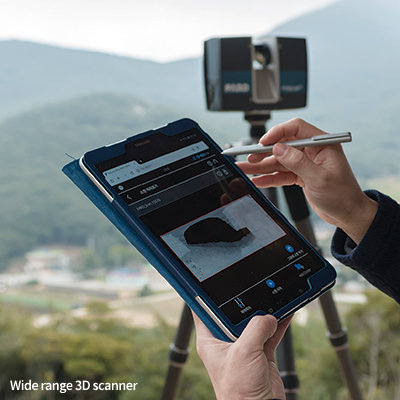 Since the establishment of its Natural Heritage Division in 2006, the National Research Institute of Cultural Heritage (NRICH) has recorded numerous achievements, which was given by the division's research on state-designated Natural Monuments, Scenic Sites, and other natural heritage. The discovery of the Gwiam (Turtle Rock) near Nakseojae Hall, in particular, was akin to a miracle that was found approximately after 260 years.
The poem "Gwiam" (Turtle Rock) is one of the collections that appear in Gosan Yugo (Posthumous Works of Yun Seon-do). In this poem, Yun enjoyed the light of the full moon in the evening sitting on Gwiam. After several hundred years, the rock ended up covered with soil and dust, which removed vestiges of its existence. However, the Natural Heritage Division fearlessly took a stand and continued research that was supported by a systematic literature review, precision analysis, and field surveys. These efforts paid off: Gwiam, which had been buried deep under the ground, finally came to light. This discovery allowed researchers to trace the exact location of Nakseojae Hall, whose building had vanished a long time ago including the spot where Yun Seon-do enjoyed gazing at the moon. The value of a Scenic Site would be appreciated wholeheartedly when its cultural heritage properties and the surrounding natural environment have been fully preserved in harmony. On the other hand, if any of the elements that constitute a Scenic Site undergoes changes, that can affect other elements, which, in turn, can alter the entire landscape. Our division's systematic scientific research is imperative to help solve long-standing and emergent research problems.Preservation of Scenic Sites with Scientific Methods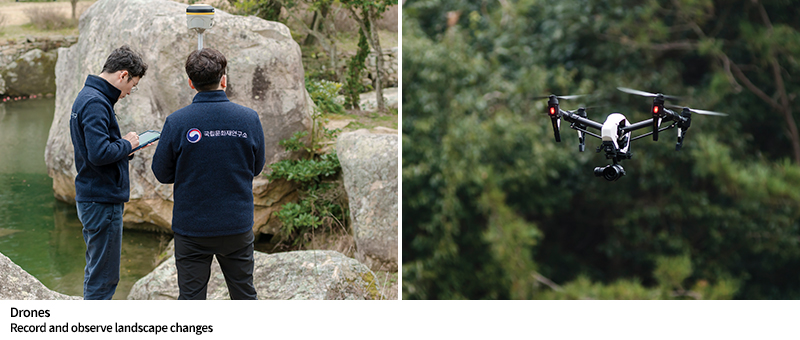 Every single detail should not be overlooked in preserving a scenic site. Our ancestors deeply valued the spirit of "united with nature," which is a restoration that individuals fail to consider. The surrounding environment alone cannot properly restore the quaintness and picturesque nature of the place. Yun explicitly illustrated a small pavilion (known as Dongcheonseoksil) to appreciate the beauty of the surrounding rocks. The pavilion has no reason for existence without those rocks. The researchers should accurately identify and record the current status and atmosphere of natural scenery and surrounding environment. Because natural scenery can be easily transformed by disasters, prolonged weathering, or collapse. Our division's researchers collect data on Scenic Sites through regular and special surveys for scientific studies. One example is that they can perform a comprehensive scan of the surroundings of a Scenic Site by using a wide range 3D scanner within 90 seconds. Portable microscopes are used for detailed observations in order to obtain more thorough and precise information. Even aerial photography is now on a new level. Helium-filled blimps were previously used for aerial photography to minimize environmental pollution, as they do not produce gas emissions. But with the advance of technology, electric drones allow for more speed and convenience in photography.
The Natural Heritage Division strives to produce "onesource, multi-use" cultural heritage data that can be used for various occasions. Our division has been uploading recordings of scenic sites online since 2009. Those recordings are particularly beneficial for the elderly, those with disabilities, the economically disadvantaged, and the prospective visitors. We also provide media companies that produce popular TV shows and movies with accurate information about cultural heritage properties.
Unlike buildings that can be repaired or restored, natural heritage items, e.g. rocks and trees, are hard to be restored once damaged. This is why our organization has been creating resources required to preserve the surrounding natural environments of the precious spaces handed down by our ancestors as these environments add special value and meaning to such spaces. We are dedicated to support and manage related research on a national level so that we continuously accumulate data on Scenic Sites of Korea–where our traditional culture and history remain alive.