Key to Restoring the 1,500-Year Old Ancient Culture of Bihwa Gaya and Its Achievements and Significance
JUNG Intae

On November 28, 2019, a door opened on the path to rediscovering Bihwa Gaya, a forgotten ancient state. When a large crane lifted two stone covers, each weighing some 3 tons, from Tomb No. 63, it revealed, after some 1,500 years, burial spaces for the tomb's owner and the human sacrificesal, along with numerous ceramic vessels and iron goods.
Changnyeong, a county located to the northwest of Busan, is the former home of Bihwa Gaya. Notably, the county's Gyo-dong and Songhyeon-dong areas have around 250 ancient tombs housing the remains of presumably ancient rulers. This assumption suggests that the areas once served as a political and cultural center in ancient times. Tomb No. 63 is the first among all Bihwa Gaya tombs that was found not robbed that have been identified thus far. For these reasons, the tomb is garnering attention as a major clue in rediscovering the royal tomb construction techniques of Bihwa Gaya as well as its funeral culture and history.What Protected Tomb No. 63, a Large-scale Tomb with an Earthen Mound, from Pillaging?Among tombs on the Korean Peninsula that were built during the Three Kingdoms period, most featuring a large earthen mound were continually looted during the Japanese colonial period. Tomb No. 63 measures 21 m in diameter and 7 m in height. Despite its large size, the tomb was saved from being plundered. This begs the question why. The secret lies in the unique way Tomb No. 39, another large tomb that abuts Tomb No. 63, was constructed. The latter was first built during the mid-5th century, and then, ten some years later, at its eastern side, Tomb No. 39 was added. Later, after a prolonged period of time, the two tombs came to look as if they were one, due to soil that ran down from Tomb No. 63's earthen mound. Among the ancient Tombs in Gyo-dong and Songhyeon-dong, Changnyeong, Tomb No. 39 is the third largest. By considering its scope and location, the tomb probably belonged to the supreme ruler of Bihwa Gaya. It can be also conjectured that by piling earthen mound at a location above the existing one (Tomb No. 63), It's builderssought to showcase his political hegemony. The occupants of the two tombs are presumed to have been intimately related, but the exact details will need to be uncovered through subsequent research.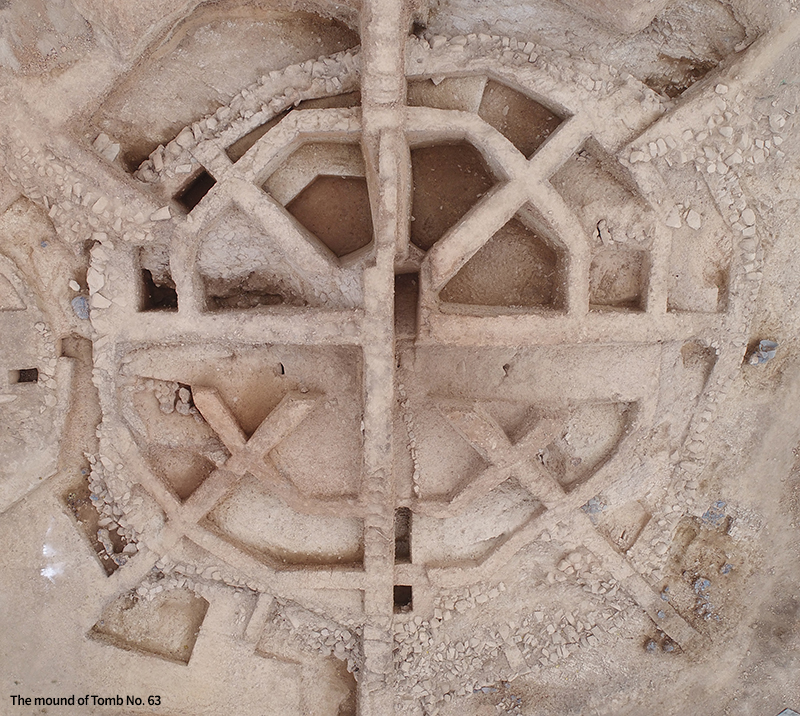 Exhaustive Excavation Starts in 2016Since the Japanese colonial period, several archaeological excavations of ancient tombs in Changnyeong County in South Gyeongsang Province have revealed much about the tomb culture of Bihwa Gaya. Designated Historic Site No. 514, the Ancient Tombs in Gyo-dong and Songhyeon-dong, Changnyeong, cemeteries for Bihwa Gaya's most important political rulers, consist of some 250 ancient tombs. The Gaya National Research Institute of Cultural Heritage has been conducting excavation campaigns since 2004, focusing on nine large-scale mounded tombs. These excavations have resulted in a number of new discoveries. For instance, researchers recovered major cultural relics, including a giltbronze crown, a silver belt, and a camphor wood coffin. The identity and appearance of an ancient person (a female sacrifice whom researchers named "Songhyeon") were also reconstructed from remains, thanks to a concerted effort by a group of experts in archaeology, forensic science, physics, and other related fields. Furthermore, in 2016, excavations on Tomb No. 39 and three other neighboring tombs began in earnest. During these excavations, a circular burial stone marker of a then unknown tomb was discovered, bringing to light the long-forgotten existence of Tomb No. 63.

Bihwa Gaya's Tomb Construction Techniques and Their Significance, Revealed by Tomb No. 63Tombs No. 63 and No. 39 were built on a steep slope by piling large earthen mounds. Excavators identified diverse construction techniques used for these tombs. As for Tomb No. 63, a main burial chamber for the tomb's occupant was first created, and then an earthen mound was piled on top. However, the construction involved a unique technique not utilized in other Bihwa Gaya tombs. Near the southeastern edge of the earthen mound, a small-sized stone-lined tomb (Width: 2.7 m; Depth: 0.6 m; Height: 0.8 m) was also created to bury someone else, along with burial goods, and then the tomb was covered with a small earthen mound. It was this small mound that encouraged excavators to thoroughly investigate how the earthen mound for Tomb No. 63 was uniquely built.
To the southwest of Tomb No. 63, in the opposite direction of the aforementioned small-sized tomb, a jar coffin, measuring more than a meter long, was recently discovered with human skeletal remains inside. Other cases where one earthen mound has both a main burial chamber and extra chambers include the Ancient Tombs in Jisan-dong, Goryeong, a representative royal cemetery at Dae Gaya. Yet, this type of burial was first identified in Tombs No. 63 and No. 39 among the ancient tombs of Bihwa Gaya, and such discovery will provide crucial resources to better understand the cultures of ancient Gaya and its neighbor. As for mound materials for Tomb No. 39, the tomb later built next to Tomb No. 63, the earthen mound's central part was built using hard clay lumps; the boundary, using soil with high water permeability. In addition, after completing each layer, fine sand layer was placed on top. This construction technique is similar to that used in the Embankment in Yaksa-dong, Ulsan, a fact that serves as a valuable resource to shed more light on technological exchanges in ancient Korea.
Tomb No. 63's Pristine Conditions Reveals Details of Bihwa Gaya's Funeral CultureTomb No. 63 was undisturbed from tomb raiders as it remained covered by Tomb No. 39. When its stone covers were lifted, cool air escaped from underneath, and the burial chamber was revealed intact. The main burial chamber, where the tomb's occupants and burial goods are placed, measures 6.3 m long, 1.4 m wide, and 1.9 m deep. The chamber is surrounded by walls on four sides that were created by stacking finely broken stones and then covering them with clay. The ceiling consists of seven flat stones, each measuring 2m long, with gaps between stones filled with finely broken stones and clay coating.
In particular, cinnabar was painted on the clay surface of the four walls and ceiling as the material symbolized the power to fend off evil spirits. As previously mentioned, the main burial chamber has remained in pristine condition. Near where the head of the deceased was placed, large stoneware vessels(e.g. a long-necked jar) and different types of ironware including spades were discovered. Although the remains of the deceased had vanished to a large extent due to contact with air, traces of a skull and those of the ornaments (e.g. earrings) worn by the tomb's owner were identified.
On the other hand, near where the feet of the deceased were placed, small earthenware items (e.g. pedestal dishes) were found packed closely together. Farther down in the direction of the feet was an empty space, where the victim of a sacrificial burial had once presumably laid. Next to this space, farthest from the wall, large earthenware artifacts were discovered once again. This arrangement of different burial goods in distinct locations is a unique funeral-related custom of Bihwa Gaya that would have been forever lost if the tomb had been looted. In addition, one unique feature of Tomb No. 39 is that, unlike in other Bihwa Gaya tombs, its four burial chamber walls were created by either erecting a stone that is some 2 m long or laying it flat. At the southern outer edge of the tomb's circular burial stone marker, the remains of large stoneware jars placed at a regular interval were also identified. Such concentration of ceramic ritual goods at one corner of a tomb was also identified from Tomb No. 44 at the Silla Tumuli in Jjoksaem District, Gyeongju. Changnyeong-type pottery, a representative artifact of Bihwa Gaya, was discovered not only in former Gaya territory but also in Korea's South Jeolla Province and Japan's Nagasaki and Kyoto. In Tomb No. 7 at Songhyeong-dong, an unexpected Japanese boat-shaped coffin made of camphor wood was unearthed. Such archaeological evidence suggests that Bihwa Gaya served as a buffer between Gaya and Silla and that the state developed through exchanges with Mahan (present-day South Jeolla Province) and even its distant neighbor Japan.
Without a doubt, each and every piece of information collected from the ongoing archaeological excavations on Tomb No. 63 will shed new light on the history of Bihwa Gaya.