2008-2019 Academic Achievements
OH Hyundok and CHOI Yuji

A big jar coffin is an artifact connoting death, while it also symbolizes revival. As such, the Naju National Research Institute of Cultural Heritage had a project related to jar coffins over 12 years, achieving a range of outcomes. The production of big jar coffins and restoring their distribution network led to social and educational cultural content, currently used in sociology classes and targeted to the general public.What is a Big Jar Coffin?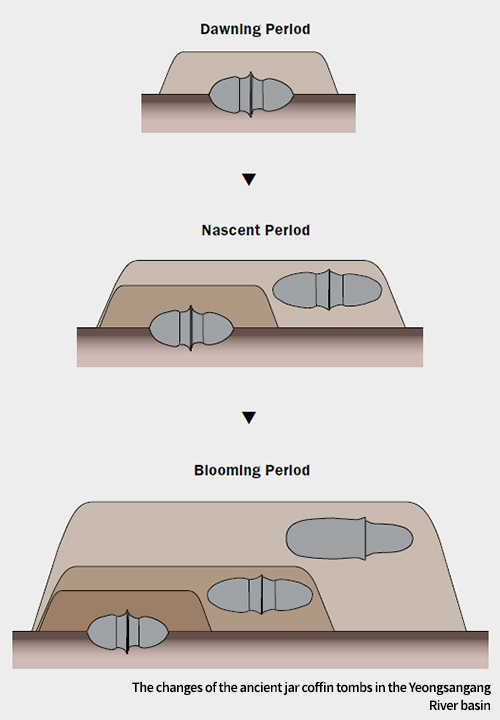 Ancient earthenware jars were containers and vessels made with burning clay, but they were also used as coffins when young children died. However, in the Yeongsangang river basin, jars were produced as coffins for adults:they were large-scale jars, measuring over 2 meters and weighing over 300 kilograms. Burial customs distinguish this ancient society from others.
Traditionally, to produce a big jar-coffin in a workshop, clay formed by secondary sedimentation was mixed with sand, and shaped in the form of a rod or plate. Then the potter would stack it in the shape of a round jar, while patting it down to make it stronger. Afterwards, the shaped clay was dried and burned in a kiln, featuring a high ceiling and gentle slope. The completed jar-coffin was transported in a cart to a ferry dock, from which it was shipped by boat to a tomb.
Regarding ownership of big jar coffins, it was suggested that this involved members of the remaining Mahan polities, the ruling class of Mahan, powerful regional clans of Baekje as well as Japanese residents. People dug a pit, placed a big jar-coffin inside it, and covered it with a burial mound. This custom changed when the coffins became the dominant form of burial, along with building a mounded tomb and digging holes to bury several jar coffins at once.
Burial objects placed inside big jar coffins of the Yeongsangang River basin were not as plentiful as those found in other facilities. This may be due to the limited production capacity or economic power at the time; it is also possible that the phenomenon due to the custom burying existing objects, used by the owner of the jar-coffin, rather than producing new ones. The process of placing the deceased and their precious objects in a big jar-coffin was accompanied by various funeral rituals.
Depending on form and burial custom, the evolution of jar coffins found in the Yeongsangang River basin can be divided into five stages: the dawning period (Iron Age – 2ᴺᴰ century), the nascent period (3ᴿᴰ century), the growing period (4ᵀᴴ century), the blooming period (5ᵀᴴ century), and the declining period (mid-6ᵀᴴ century).
Dawning PeriodEarly big jar coffins were utilized as part of pit burials in ditches.
Nascent PeriodDuring the 3rd century, those big jar coffins were used as coffins, not as everyday vessels. An early form featured dramatic curves: a flared mouth like a trumpet, a narrow neck, and a wider body.
Growing Period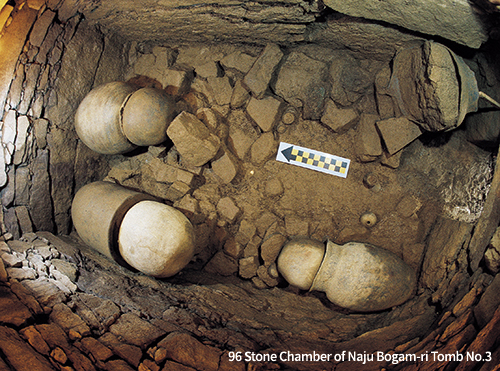 In the 4th century, jar and wooden coffins were part of the burial facility in the trapezoidal mounds of the Yeongsangang River basin. Big jar coffins featured a mouth that flared out with a projection at the bottom, leading to horizontal expansion and general enlargement of the tombs.
Blooming Period
The 5th century witnessed the substantial height of big jar coffin tombs. In addition, the region's 2-meter long U-shaped coffins were used as the primary means of burial. This was often done in the Bannam Gobungun region of Naju (present-day Daean-ri, Ban Nam-myeon in Naju City, Jeonnam [South Jeolla Province]), with mounded tombs of expanded volume, horizontally and vertically. The Ancient Tomb No. 9 in Sinchon-ri, Ban Nam-myeon, Naju, featured U-shaped jar coffins: found with a gilded-bronze crown, gilded-bronze shoes, a decorated sword, and artifacts that showcased the political status of jar coffin tomb owners then.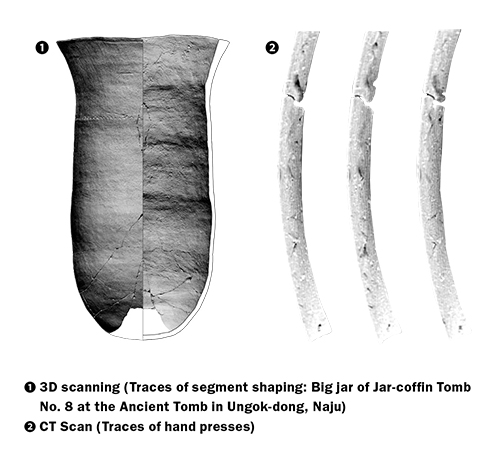 Declining Period
In the 6th century, with Baekje's regional governance, the Yeongsangang River basin was incorporated into the kingdom's territory. During this process, jar coffins lost their status as the main burial vault in ancient tombs, thus the dominant style shifted to stone chamber tombs. The jar coffins evolved from the typical U-shaped designs to more diversified forms.
Achievements of the Research ProjectPrevious research of the society, associated with jar coffin tombs, centered around the political powers that created the tombs. However, the question ofhow and where these big jar coffin tombs were produced did not receive the attention it deserved.
To better understand this in 2008, the Naju National Research Institute of Cultural Heritage launched "The Research Project for Restoring the Technology Used in Making Ancient Big Jar coffins". This identified the production technology to honor the heritage of the river basin, while also conducting archaeological surveys by analyzing material characteristics.
With visual observation, 3D scanning, CT scanning, and X-ray photography, cross-validation took place with scientific analysis of elements (material analysis of 79 big jar coffins, unearthed from the Yeongsangang river basin, 10 soil samples, and 160 analysis samples). Experimental archaeological methods (e.g. experiments on the recreation of raw clay into big jar coffins, while forming and firing them) helped the public understand the process. Mr. Lee Hyeon-bae, a master potter who made large earthenware and equipped with ample experience in pottery firing, also participated and provided technical assistance.
The structure and form of kilns, in which big jar coffins were fired, were uncovered through nine excavations from 2007 to 2017 at the Kiln Site in Oryang-dong, Naju (Historic Site No. 456). This served as the center of mass production for big jar coffins in the 5th century.
For this project, our institution established a jar- coffin workshop with three restored in-house kilns. Approximately 30 jar coffins were restored, when production experiments were handled in stages, along with academic research. To ensure the outcomes, our institution came up with diverse solutions, such as exhibitions and hands-on programs.
Restored jar coffins were displayed in the exhibition hall and the jar coffin workshop; this allowed visitors to identify coffin production technology and compare restored jar coffins with ancient coffins, recovered from the remains. Similarly, mini jar coffins served as time capsules, as they were created with hands-on programs and put on display.
Many restored jar coffins were donated for exhibits: one to the Daehan Institute of Cultural Properties, which is on display at the building's entrance, with other restored artifact so that people can view and appreciate them as they pass by. Likewise, a jar coffin was donated to the Korea Power Exchange, to be displayed in the lobby of the headquarters, with an explanatory note about the donating institution and the jar coffins. A restored jar coffin was also presented as a gift to the Naju National Museum, where it is an educational resource for hands-on learning.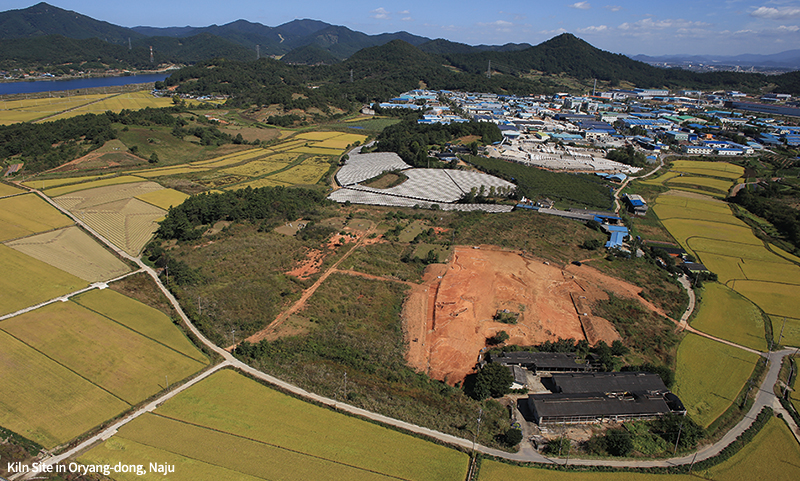 Other restored jar coffins were donated to several institutions, where they enriched the cultural heritage by welcoming visitors into a familiar setting.
In addition to restoration work, our institution run cultural program for the public. Big jar coffins are a distinctive type of tomb found in the Yeongsangang River basin, with artifacts that represented the region. However, the general public is not yet familiar with how large they were made and used as tombs.
The cultural program allows the participants to study theory in a lecture-based setting, visit a kiln site in Oryang- dong, Naju to observe the kiln's soil layer, and then acquire hands-on experience by making their own jar coffins at the workshop. Therefore, participants learn about the society, the meaning of jar coffins, and how they were made in a hands on manner.

Among these learning sessions, the hands-on experience sessions involve the making of large and mini-sized jar coffins. This learning session is exclusively offered by our institution; they were also made for our researchers who mastered production techniques as well. Mini jar coffins involved the same technique, so participants produced them as time capsules. This educated participants on the dual nature of jar coffins; although the artifacts were often associated with death, they also symbolize revival.
For over 12 years, we at Naju National Research Institute of Cultural Heritage have dedicated to this project, and found three major outcomes. First, the institution established the chronology and plans for their restoration. Second, we recreated big jar coffins and found out their distribution network. Last, we developed cultural education programs based on our research, which are still relevant in our current society.